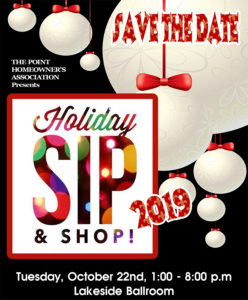 Sip and Shop is an annual POA event that is held in the Trump Ballroom every October.  Sip and Shop was started over 16 years ago by several Point residents who wanted to create an early holiday fun (sipping!!) and shopping (shopping!!!!) experience for our community members.
The event started small with only 9 vendors selling items such as one of a kind jewelry, cosmetics and décor.  Sip and Shop has grown to the largest POA sponsored event; attracting vendors not only from within our community but also from multiple states, and astute shoppers from inside and outside our community.
Last year's event offered over 80 vendors and hosted over 550 shoppers all during a 6 ½ hour shopping extravaganza.  In addition, our shoppers are treated to a free glass of "bubbly" and tantalizing appetizers provided by our generous sponsors, Trump Realty, Julie Cash Realty and the Temple Team.  Our vendors include local crafts people, elite jewelry, fashion, cosmetics, décor, food, pet items, games, books and other interesting items.
Sip and Shop is run by a small, close knit group of Point volunteers.  The volunteers begin planning for the next year's event shortly after the current event.  The committee volunteers become fully active in May and remain so until the successful completion of the event in October.  The Sip and Shop Committee is also blessed with the outstanding help and support that is provided by Gavin, Elena and the rest of the Trump staff.
Our event kicks off at 1p.m. on October 22, 2019.  It is held in the Trump Ballroom.  The Sip and Shop team looks forward to seeing you there!
Little things to know:
The event is opened to the public. Tell your friends, family and neighbors that they are welcome to attend.
Most of our vendors accept credit cards and checks.However, a few do not, so remember "cash is king"!
The club offers babysitting services for this event to both residents and nonresidents. There is a small charge.  Please call the club for reservations.  They request this courtesy so that they can ensure proper staff coverage. Pizza is provided!
A cash and membership bar will be available at the event.
Husbands, boyfriends, sons, uncles, and friends are welcome. There are vendors who offer items that men would like.  Also, it's a great time for the guys to shop for those holiday gifts!
Our sponsors will each have a booth. Stop by to say hello.
Dinner reservations at the club are recommended.
Sip and Shop Team: Linda Bundens (Co-Chair), Barbara Edwards, Sue Figgins, Sara Harris (Co-Chair), Bette Schwartz